ROYAL SPA produces its own spa cosmetics called THERMELOVE
20. 5. 2015 -
ROYAL SPA hotels have 20 years' experience of caring for the health of spa visitors.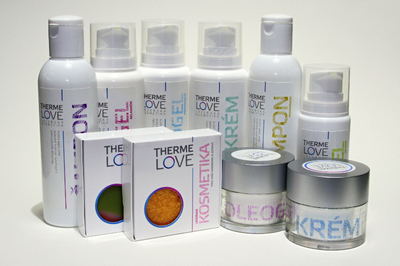 New cosmetic products THERMELOVE
Velké Losiny Spa which is part of the ROYAL SPA family hotel chain, has been offering spa treatments with a tradition spanning more than 450 years. The spa gained its fame mainly thanks to its unique healing thermal sulphur water, which has beneficial effects on the musculoskeletal system and skin problems. Since we would also like to offer you treatments which you can enjoy in the comfort of your home with a touch of health from the thermal waters, we have developed our own THERMELOVE spa cosmetics.
It is the second cosmetic line with medicinal effects that we are going to offer. For several years SINOVA cosmetics containing water from Ostrožská Nová Ves Sulphurous spa have received excellent results and positive feedback from clients.
Try THERMELOVE cosmetics from the thermal spring:
gentle CREAM for skin with eczema and psoriasis
restorative SHAMPOO
herbal OLEOGELS - skin gel for face and neck acne
regenerating OLEOGELS - skin and whole body care and against cellulite
relaxing OLEOGELS - to regenerate after physical exertion
GIFT PACKAGE - bath salts and natural soaps
THERMELOVE cosmetics on sale now
All THERMELOVE cosmetic products can be bought at the receptions of our hotels, in the near future we are going to run our own e-shop, where you can comfortably purchase the products from home as needed.